CHILDREN
in Sanderstead Parish
Children and Families in Sanderstead Parish
All Saints, St Mary, St Antony and St Edmund
We welcome children to all our services. Children are also welcome to explore the children's corner at All Saints, or the Family room at St Mary's, with books, toys and crafts. Older children may like to join Jigsaw and Sunday School to learn more about Jesus.

Sunday School and Family Room at St Mary's
Here at St. Mary's we welcome many families to our Sunday worship. Some come into Church and stay through the worship. Others start in the Church and then head off into the Church Hall where there is Sunday School for school age children. Sunday School offers a time of worship, bible stories and activities to help the children (and their parents!) learn more about God's love for them.
Parents and children can also go into the Family room within the church, where there will be toys and simple books out, for the little ones to choose from.
You do not need to "book" a place. Simply come along. We follow careful Child Protection procedures to ensure that all, children and adults alike, feel safe and loved.

Family Fun
Fun, games, singing, Bible stories, and tea. A fun hour for little ones and their families. Held in All Saints Halls or the church one Sunday a month (usually the third Sunday) at 3 pm. For more information please contact Emma at children@sanderstead-parish.org.uk.

Children's Area in All Saints
Our Children's Area is located in St Catherine's Aisle, which is part of the main church. There are toys, books, games and puzzles suitable for babies and older children and a member of our congregation, who has been D & B checked, stays in the Area throughout the service to look after and ensure the safety of the children. Parents are welcome to stay with their children or to come and go during the service. Children can take toys or colouring books from the Children's Area and sit with their parents if they prefer. There are toilet facilities and a baby changing unit nearby in the vestry.
Toddler Groups
Toddler groups meet in the All Saints Halls in term time, on a Tuesday and Friday morning at 9.30 am. Please Contact Ann Brown, email abrown@mac1systems.com, tel 020 8660 9817, for more information about joining a toddler group.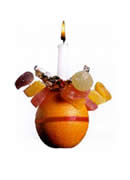 Christingle
Christingle Services in aid of The Children's Society are held at each church around Christmas. Learn about the love of Christ with a special Christingle Orange, a red ribbon, a candle and the fruits of the earth. Check our events list for the date and times of the services.